Here is the final render of a multi-versioned project that I made over the summer at Moxie Sozo. The thirty second loop is actually a website for a vegan cookie dough company and can be viewed here. The entire planet works together to produce the dough.
The website design skewed from a traditional navigation bar to something more self contained and entertaining. All of the links are within the planet. Look around and see the entrance to the About page in the back left, the link to Shop is the house in the center. The goal of the website was to present the user with a stimulus that would hold their attention a lot longer than the average web page.
Charles's Original Concept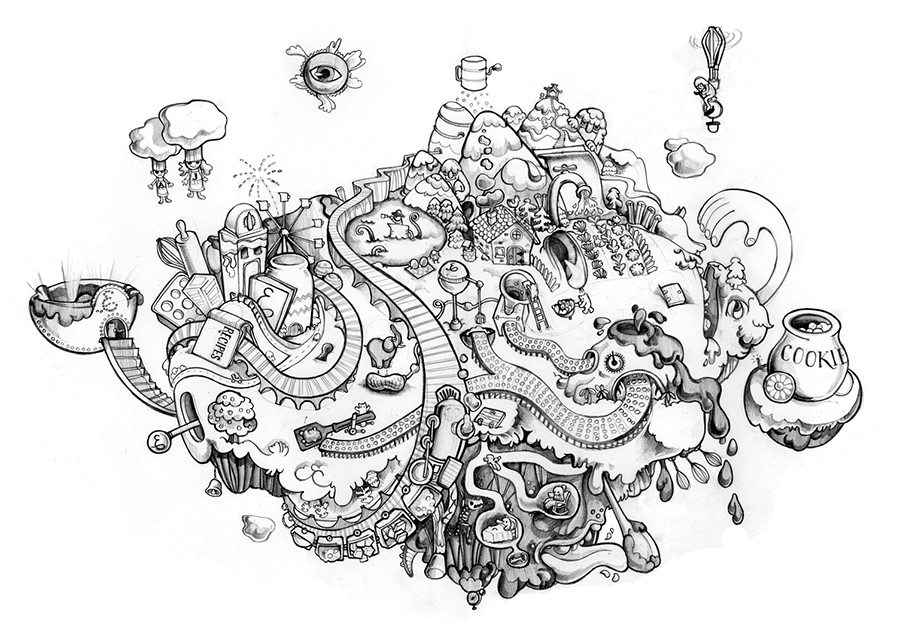 This was the original sketch drawn by Charles Bloom at Moxie Sozo. When I started at Moxie in May, I was handed this and then told to start. I was the only 3D artist and so it was a little overwhelming until I broke the planet into sizable chunks. At first, no one knew what to expect from me, but soon the project started resembling the sketch and it would turn out to be a lot of fun.
The Making of 1,000 Pound Cake
During the three month production, I was asked to take frequent screenshots of my progress in order to better educate designers at the studio and future potential clients on the 3D process. I recorded about fifty pictures a day and strung them together in the video above. Feel free to ask me any questions that you may have about the way I made the planet.
Mr. Mixer or: How to Convince People That 3D is Cool
I remember what it was like on the Friday that I made this. I had just been assigned the task of bringing Charles's illustration to life, but no one at Moxie knew what to expect for the final product. 3D can look so deceivingly stupid until the last 1% of the project and Leif was doubting if I could produce the quality of work that he expects. "Render", Area Light", "Poly Count", "UV Map". I tried my best to translate the technical 3D jargon into something Leif could imagine, but I don't think any words would have convinced him that the project would turn out the way it did.
I knew I had to make a concept piece to put everyone's trust in me for the next three months so for the following 15 hours, I chose one of the characters from Charles's drawing and made it from scratch. The next day, the capabilities of 3D were a little less muddled, but I had everyone's confidence and it became habit for me to load up the short whenever Chris would tour clients around the office.
Production Stills